Automate the process of personal transaction monitoring
Manually keeping track of employee trading activity is challenging for any company's compliance function. Enable your compliance officers to conduct complex compliance work more efficiently and reduce administration related to personal trading with Applicon Trade Tracker – the digital tool that fully automates monitoring personal transactions.

Time to upgrade your solution?
A manual approach to handling your employees' personal transactions leads to complications such as increased workloads and insufficient time to report to authorities appropriately. 
There are multiple critical indicators for requiring a computerised structure. They include:
Slow response times to personal trading requests. 

Difficulty in monitoring and controlling personal trading throughout your organization.

A manual process that forces your organization to rely on sample sets instead of  complete monitoring of your employees' personal transactions.

Insufficient time to ensure the quality of your compliance work.
The digital tool that automates personal transaction monitoring
Applicon Trade Tracker is a third-generation digital tool that gathers all necessary information about your employees' personal trading activity and makes it easily accessible through a comprehensive dashboard. The system also automatically handles all trading requests based on customizable rules – with an instant response time. Applicon Trade Tracker monitors the entire pre and post-trading process and alerts your Compliance Officer if trades need further investigation. 
With Applicon Trade Tracker, you can:
Establish a web-based user interface with extensive functionality and user-friendliness.

Enable your compliance personnel to monitor personal trading activity directly in a system that automatically alerts them regarding requests or issues they need to handle.

Set different rules for different departments through the platform. When a trading request falls inside or outside those rules, Applicon Trade Tracker instantly approves it or flags it for investigation.

Automate the entire process of personal transaction monitoring so that you can spend more time and resources on things that matter.

Integrate other systems and functions, such as back office and HR, to enable the sharing of information between them.

Adapt to national and international markets and regulations, enabling you to stay compliant wherever you operate.

Reduce manual labour, increasing your compliance personnel's satisfaction.

Eliminate implementation projects, downtime, and maintenance costs with a cloud-based solution.
A SaaS-based solution – optimal for your business
Applicon Trade Tracker is a SaaS-based solution, making it configurable to suit your organization's size and needs and easily adaptable to new market regulations. It also allows you to get the full transaction monitoring service – including servers, support and static data. 
The SaaS approach eliminates upfront costs like implementation and physical servers and ongoing expenses such as maintenance and upgrades. You pay only for what you're using – not more, not less.
We're almost there
Applicon Trade Tracker is currently under development.
Please contact Charlotte for more information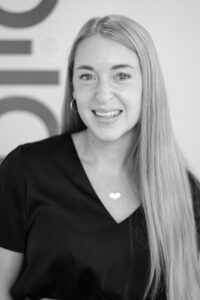 CHARLOTTE FROST
Product Manager
charlotte.frost@applicon.se
+46 (0)70 – 448 40 71